If you like board games, Northstar Games has a couple you'd really enjoy as a family, youth group setting, sleep overs, birthday parties, or even New Year's Eve game night like we have around here.
We were given the opportunity to review the Wits and Wagers Family version. The kids really enjoyed this one.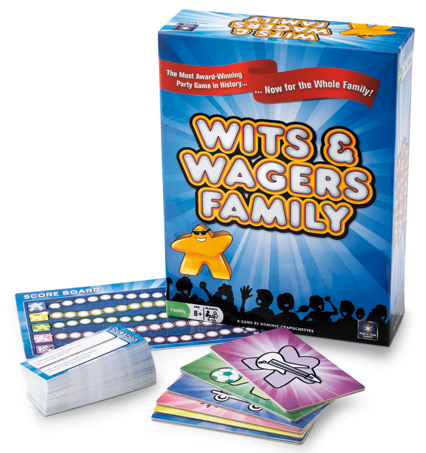 Here's an excerpt from the website:
"Wits & Wagers Family simplifies the rules and scoring system of the popular Wits & Wagers. Now families and kids can get into the Wits & Wagers action! First, every player writes down a guess to a fun question. Then players try to score points by choosing which guess is closest to the right answer without going over. That is it!
The game features 300 new family-friendly questions. And even better than that, Wits & Wagers Family includes Meeples-- fun, cute, human shaped wooden pieces that the players use to select which answers they think are correct. Meeples have been a hallmark in European style strategy games for years, but this is the first time they have made an appearance in a party game."
The group can play individually or team up. There are up to six playing boards.
What is fun about this game is although it is partly educational, the only thinking to it is a number. So even the younger ones that can write a number can play and learn something at the same time.
We had down to Max (5) playing. He had a blast! What was the most fun to watch was 8-year-old Tawny.
Since all the answers are numbers, I'd watch Tawny write a 5 digit answer. Then I'd watch her shake her head, erase it and write a new answer. Confidently she'd lay down her board. It got to where even the teens started betting on Tawny's answer because she'd be closest 7 out of 10 times. Even on questions such as, "How many different Webkinz stuffed animals have there been?" Although Tawny wrote 300 and the answer is 201 and she went over so therefore didn't win BUT she was the closest. Others said as low as 20, others as high as 1000.
I was able to watch her little mind really think and analyze her answer.
A lot of the questions were more like this Webkinz trivia question, but a lot of them were informational/educational questions. Which is awesome!
The kids ask often to play this game.
If you are looking for something different, easy enough for the youngest players, but challenging enough for the oldest of the players, you'd enjoy Northstar's Wits and Wagers game.
We are reviewing another Northstar game and the family has enjoyed that one as well (look for review this Friday).
Christmas is coming up….why not give an educational learning board game. Built very sturdy. Comes in a good strong box.
To purchase a game, click here. It'll take you to a map, type in your zip code and find a store nearest you to get your game. If they have an online service, you could probably order it.
We aren't the only family to get a bunch of laughs out of this game. Check out what my crew families had to say too.
Vickie
Disclaimer: As an independent contractor for the TOS review crew, I received a Wits and Wagers Family game from Northstar for FREE for this review.